Problem 
Gen Z in Berlin are currently lacking one source of truth for connecting with the local creative scene.

Challenge
How to create an online magazine focused of the local creative community and fitting the target audience style interests?

Solution
thuja, a contemporary curated magazine.
Team
Giedre Motiejunaite & Erica Menin
Persona
The given target audience was creative gen Z's with a wish to connect socially. After desktop research, analysing the interests of local late teens, and a detailed interview with one of them, we have created a persona.
Paula is a
19 year old German based in Berlin
. Interested in
digital arts
,
technology
, and
fashion
. Her favourite brands include
Glossier
and
Acne
. She uses
Apple
devices exclusively. Her go to apps and services are
Artsy
,
Klarna
, and
Artnet.
She is trying to get more familiar with the local creative scene. Paula would love to find a space where she can learn about what is happening locally and what her fellow creatives are doing. She loves fashion and would like to see what people wear and get inspired by.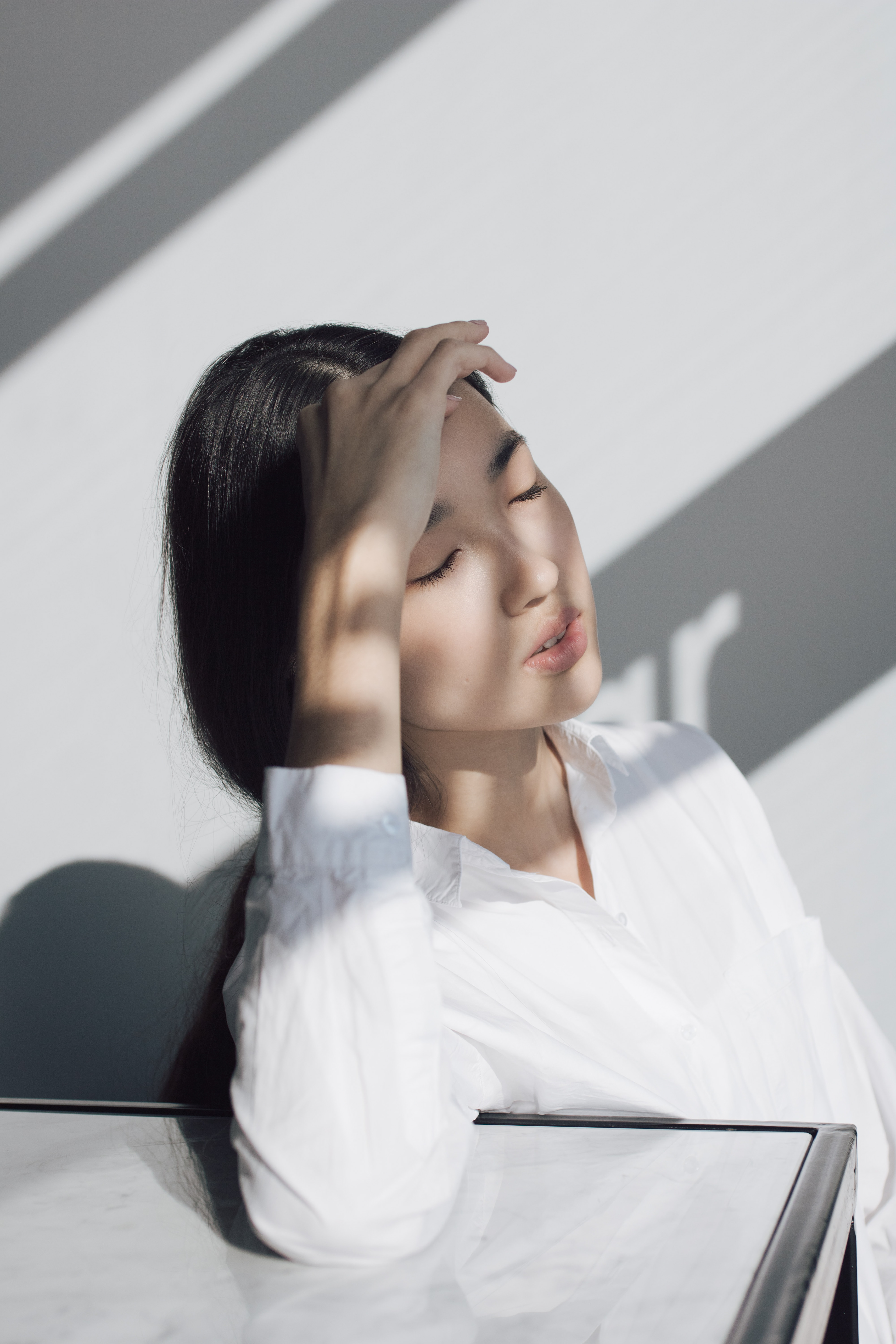 "I want to become a part of the local art community and actively participate in creating a common scene for all of us."
frustrations
1. No space for local creative news.
2. Clustered websites make her confused and easily distracted
3. Lack of sites optimised for mobile, as she is constantly reading on the go.
Needs
1. A common space for learning about the local creative scene.
2. A safe space for exploring.
3. A mobile first news source.
4. A cool visual solution to keep her engaged.
Visual Competitor Analysis
In order to find out what styles interest Paula, we looked into her favourite sites and their competitors. As we were building a brand from scratch, we needed to know what is out there to figure out where to position ourselves. What we found out is: majority of competitors use minimalistic black and white layouts and branding. A couple are a little bit bolder in their font choices, sometimes also in their colour choices. Imagery is very important at all times.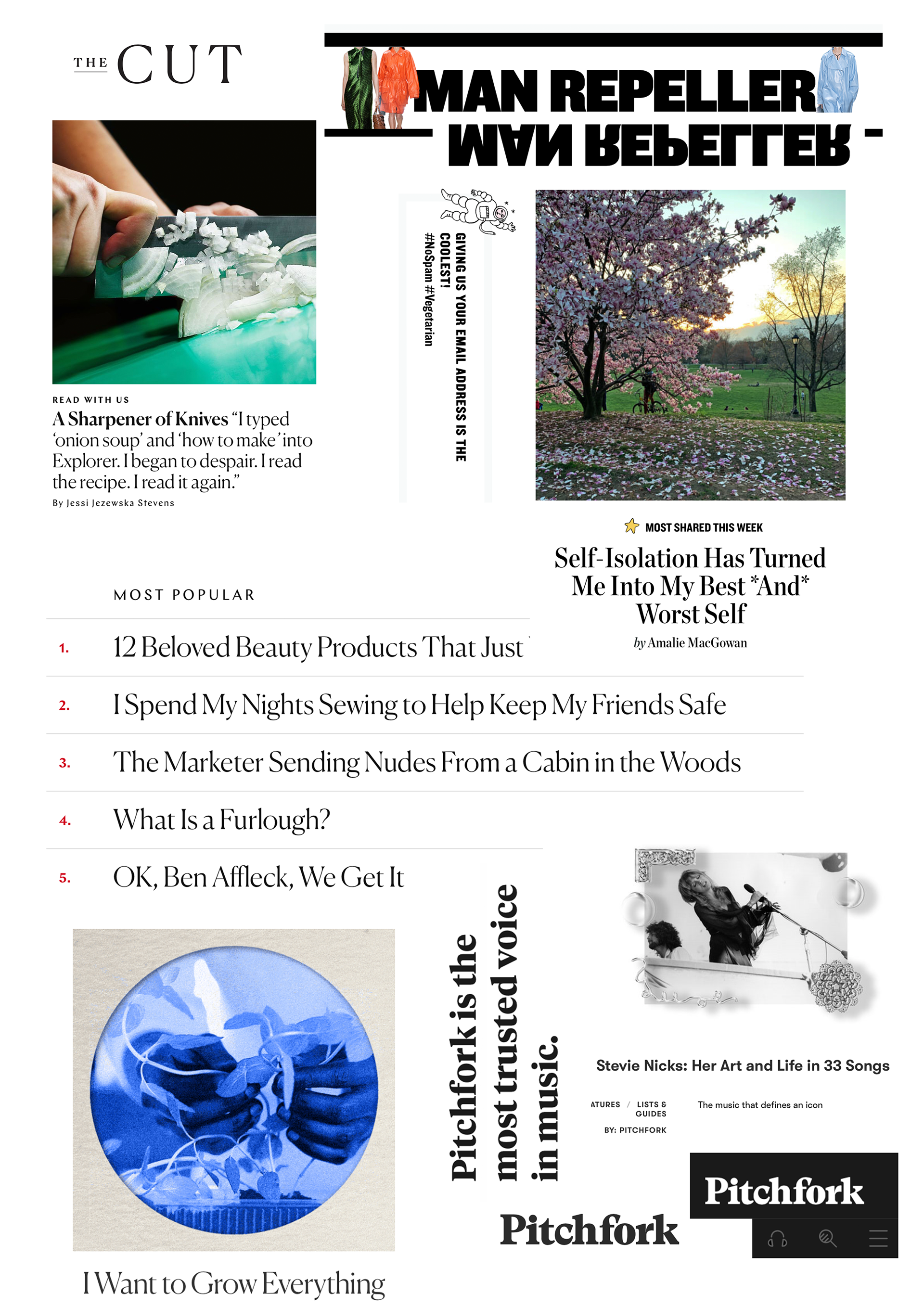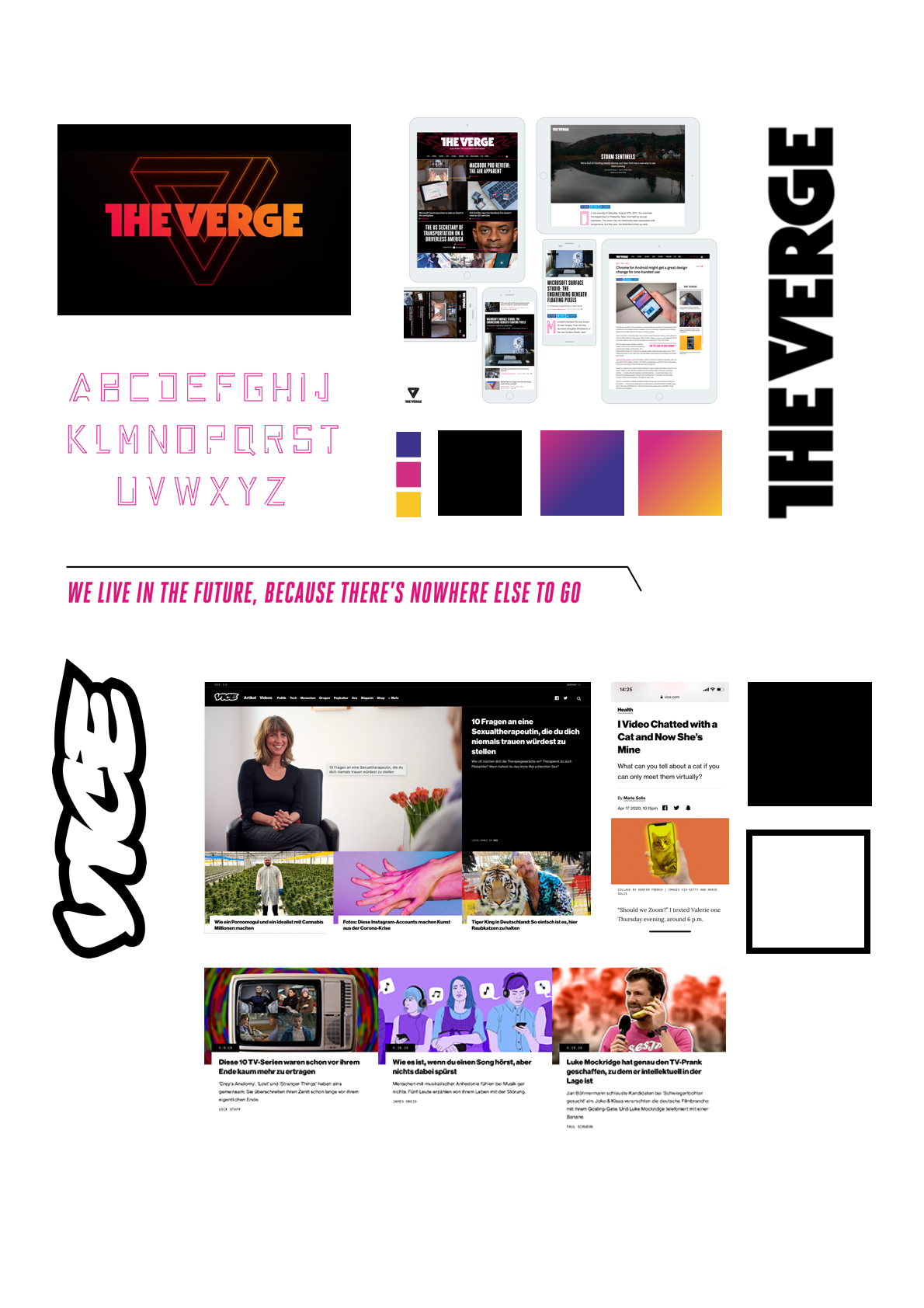 Core Brand Values
As our persona is focused on the artistic scene and we wanted to emphasise the content, we decided to find a balance between the two. thuja is heavily inspired by the classical sculpture arts, incorporating modernism and minimalism in one picture. It is about creating harmonies between the urban and the forests, between organic and mechanic. It is all about balance. Our slogan is: thuja is creative and free. Be brave on thuja, be whatever you want to be.
We analysed how our brand is positioned visually compared to the competitors. We are aiming to have a big contrast between our minimalistic approach and the feel of individuality. Cause every thuja is different, every thuja can be shaped into whatever you want it to be.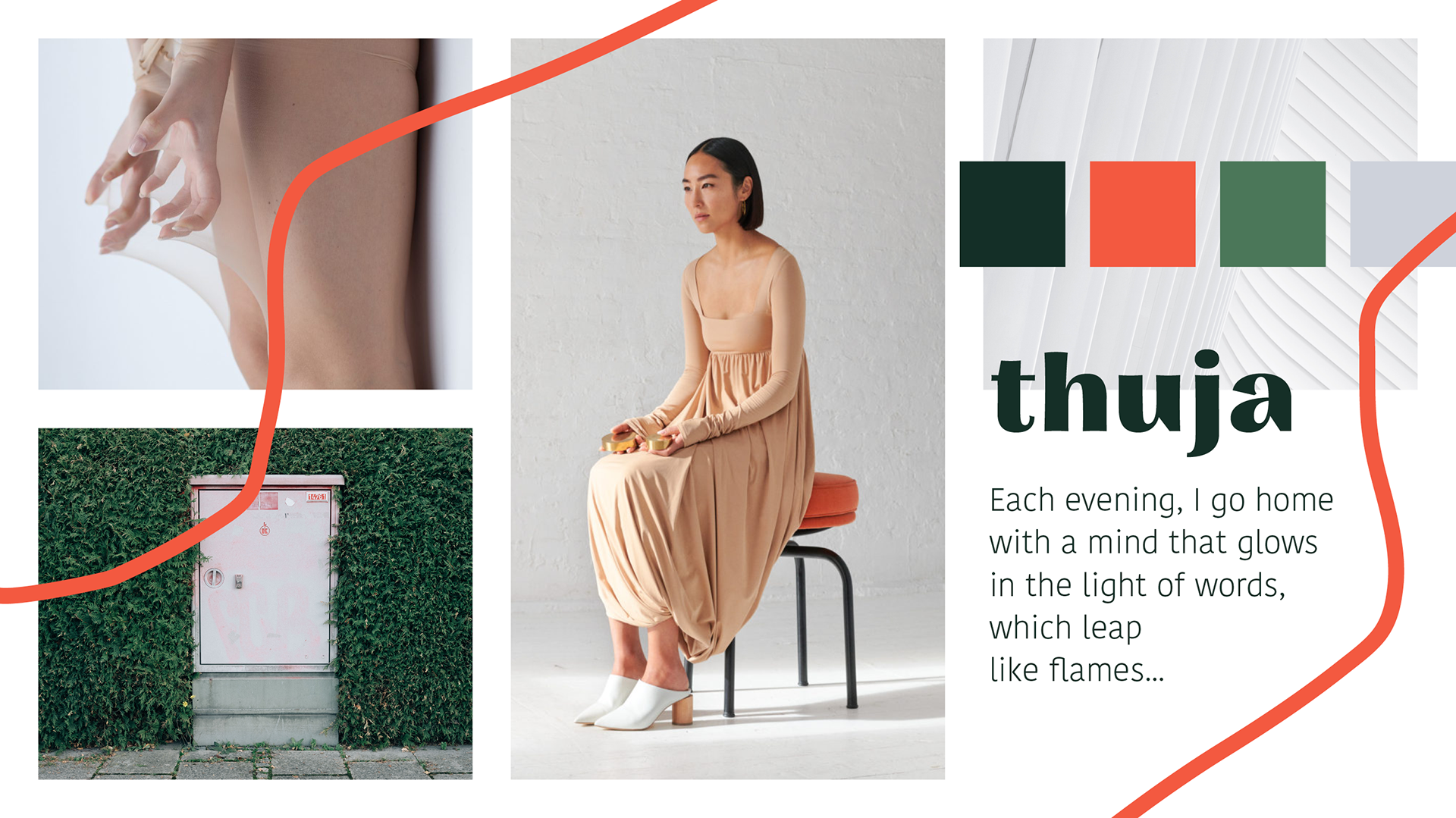 two Directions?
In order to narrow down our visual style, we have created a couple of style tiles. As we had a very clear direction based on competitor research, we focused more on the differences in details, rather than bigger branding changes.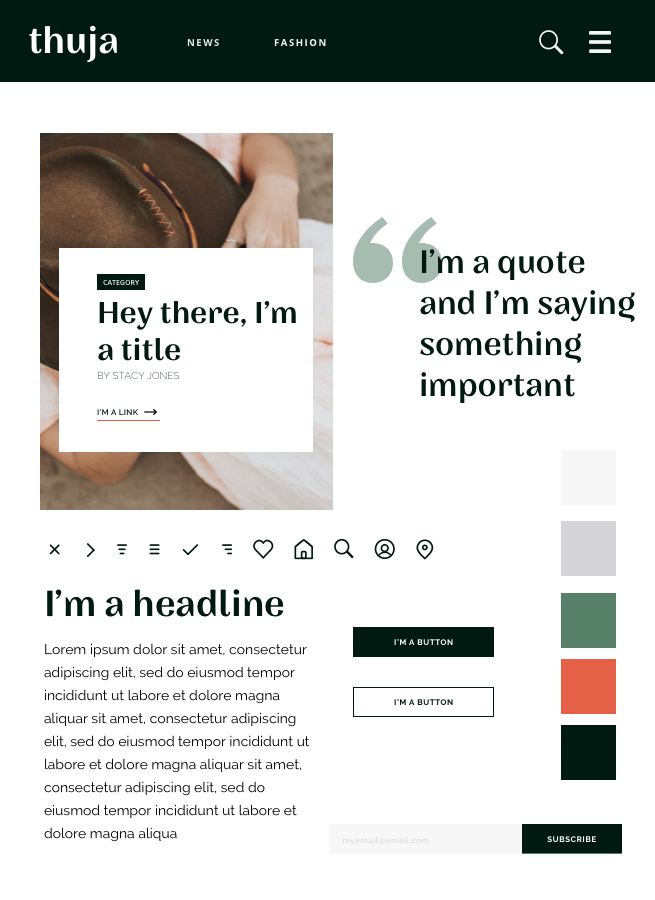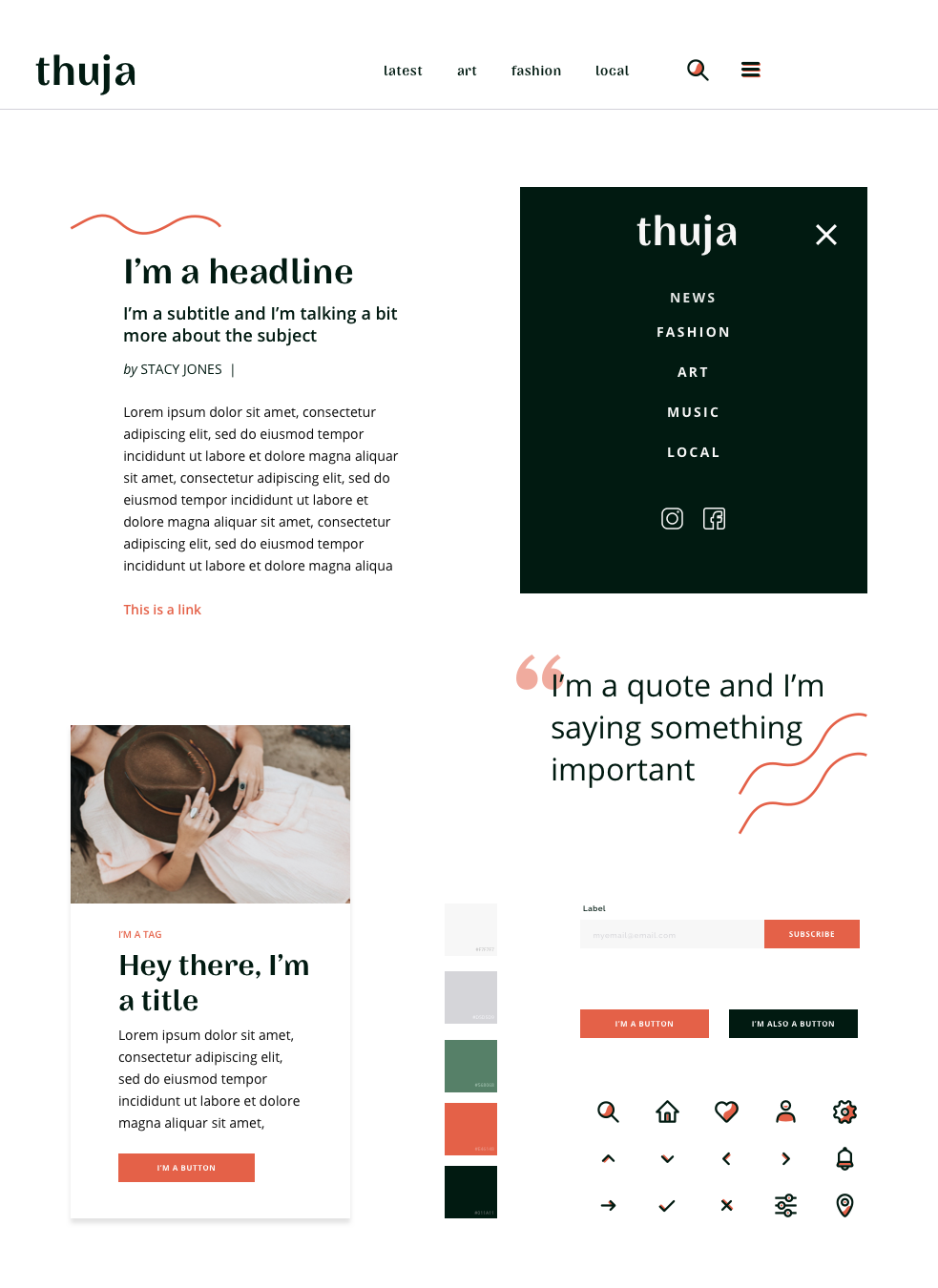 Typography and colours
We have chosen to use the Nazare typeface for logo and main headlines. It represents the edginess of a thuja plant. The body text is Open Sans to have a clear and light typeface that would contrast well with the headlines and rest of the website. We focused on creating contrasts and harmonies between textures, fonts, and colours.
The colour palette is inspired by the actual colours of thujas and the urban environments they grow in. We have chosen a strong orange for accents and error state indications.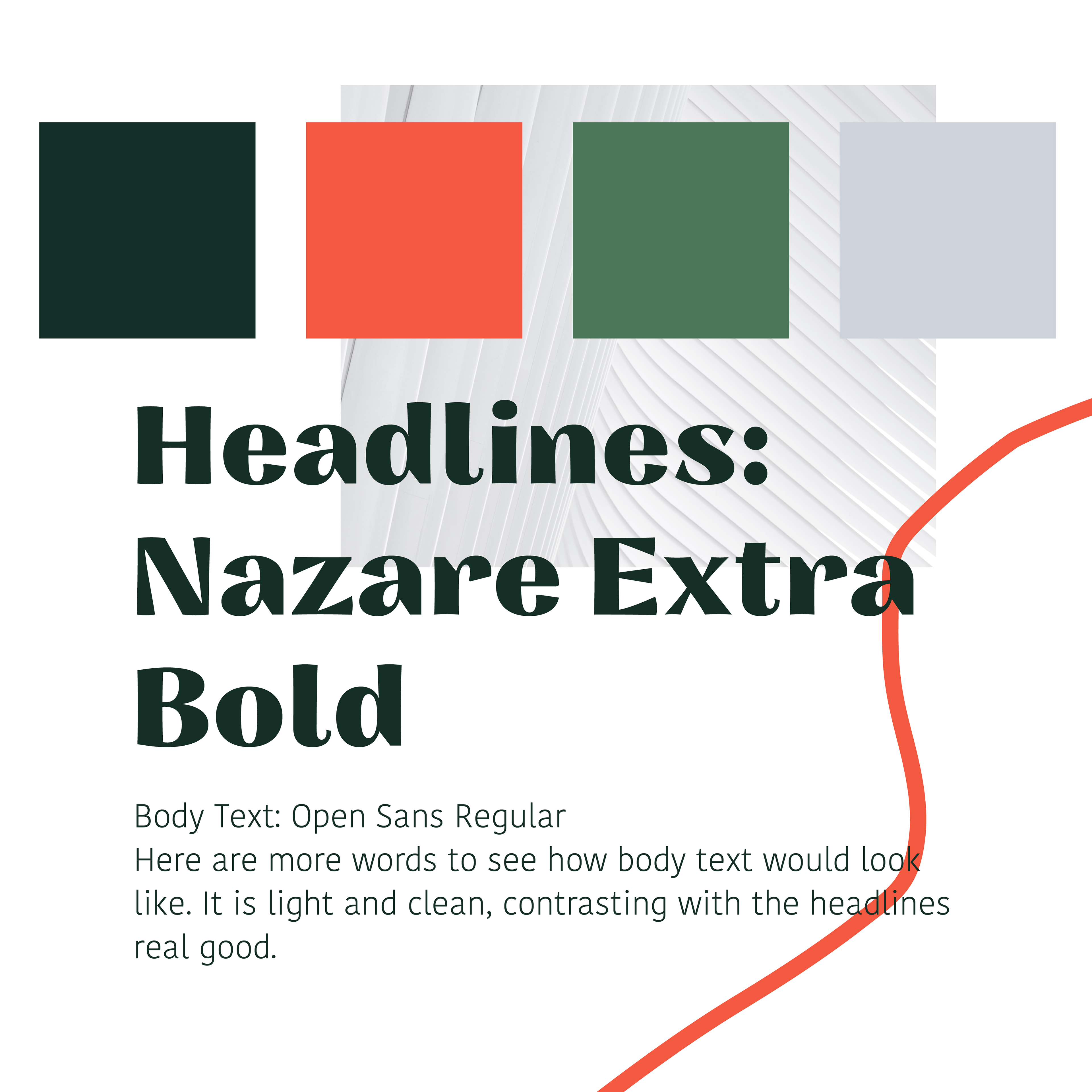 Information Architecture
As our user is constantly reading on the go, we focused on mobile first. We structured information in a way, that users can access all the content easily. Flat information architecture allows thuja readers to get to specifically curated content without any wandering around from the main navigation.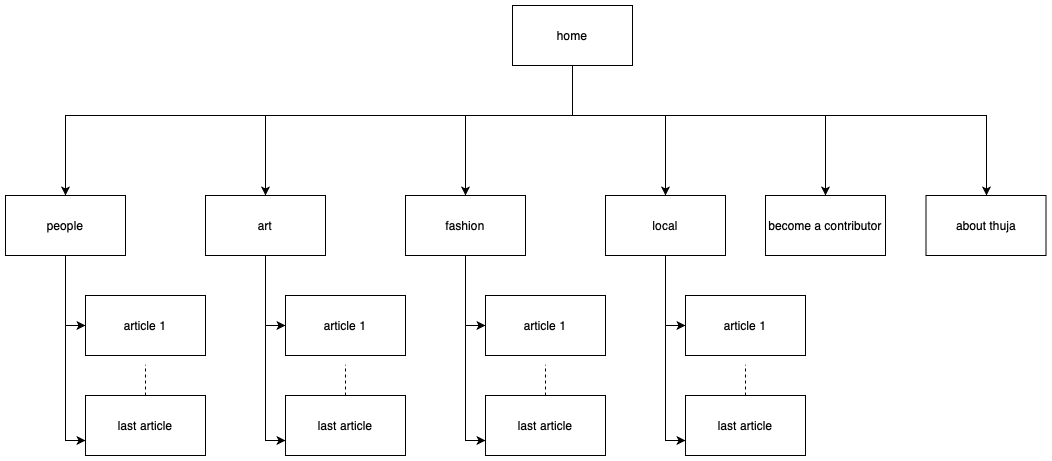 Primary User Flow
We have decided to design a feature, that allows Paula to become part of thuja. To apply, a user can access "become a contributor" section of the service from the hamburger menu (in mobile version). This location follows a common pattern used by online magazines, as well as thuja's competitors making it easy to find for the target audience. We have included a section where the user can learn about thuja's contributors' experiences to help users understand the requirements and what is actually entails being a contributor. The user can also apply to become a contributor right away by filling a simple form.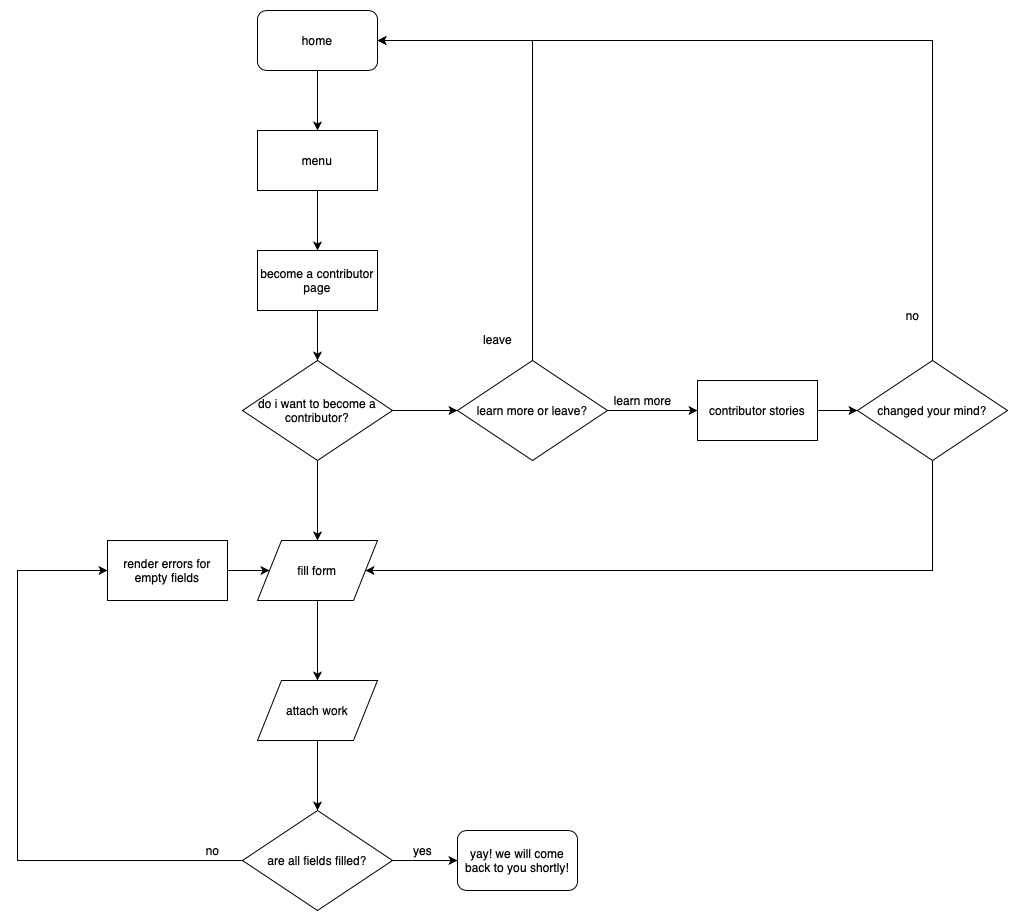 Prototype
In order to test our website, we built a prototype using Sketch and Principle. We followed previously made wireframes, as well as design guidelines set in the beginning of the project. 
We focused on testing accessibility from mobile devices and the "become a contributor" flow. 
We tested the prototype via video call interviews with testers using primarily the think aloud method. The outcomes of the tests had concluded that the legibility is mostly accessible, just the sign up for font size is on the smaller side. That resulted in testers with poorer eyesight having some issues filling it out. Mobile browsing experience is good, hamburger menu is a well known pattern among web magazines, therefore people were comfortable with it. 
responsive design
In order to enable our target audience with wide range of devices we decided to design thuja website on a responsive grid. Desktop version is based on 12 columns, and mobile on 4. We have followed material design guidelines to ensure legibility, consistency, and standardisation. 
Next steps for this project would be extensive user testing on the usability of the website and brand image. As this was a 5 day project, we clearly had limitations due to time constraints. Building an extensive prototype, learning more about the target user, and figuring out how they would behave with the product is crucial for creating a successful solution. 
THX for reading!